Get Screened Today
Colon cancer is preventable, treatable & beatable. New screening recommendations start at age 45! Get your screening done today. Learn more
We are proud to announce that Strollin' for the Colon's 10th annual 5K walk/run "Toni's Race" held on Saturday, September 11, 2021 was a complete success! We are grateful to all who supported us.
Learn more about Toni's Race
Mission
To promote awareness and education about proper screening and early detection, to provide support for area patients and families, and to fund critical local research.
Dress In Blue
The month of March is National Colorectal Cancer Awareness Month. See how we celebrated on March 5th, 2021.
Learn More »
Become a Sponsor or Volunteer
Want to support our effort by being a sponsor of an event? Would you like to make an impact by becoming a volunteer? Join us and make a difference!
Sign Up »

Donate
With your generous support, we can win the fight against colorectal cancer.  Your donation is tax-deductible, and all donations will support local patients, families, and research. Make a Donation »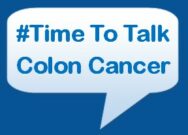 Feature: Time To Talk Colon Cancer
Let's open the dialogue up around colorectal cancer. Learn More »