About Us
Strollin' for the Colon is a local non-profit organization whose mission is to promote awareness and education about proper screening and early detection, to provide support for area patients and families, and to fund critical local research. Colorectal cancer is the second most common cause of cancer deaths in the U.S. However, it is preventable with proper screening and treatable with early detection.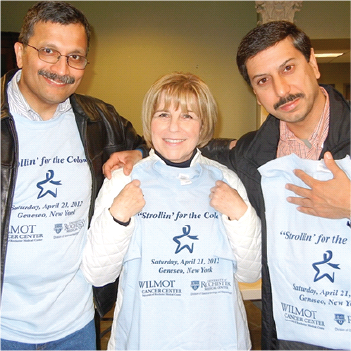 (left to right) Dr. Benedict Maliakkal, Toni Moore, and Dr. Vivek Kaul
Toni's Story
Strollin' for the Colon and 5K walk/run began in 2012 because my sister, Toni, was diagnosed with Colon Cancer. During this time, my friend Ginny and I wanted to do something to help raise awareness of  colorectal cancer and to help others like my sister who were fighting this disease. Sadly, my sister lost her battle with Colon Cancer, but we continue our dedication to this cause in her memory. In 2019, our 5K event's name was changed to "Toni's Race" in her honor.
We are a non-profit organization and proceeds from this event will remain local. Over the years we have helped to support colorectal cancer research at the Wilmot Cancer Center, the development of cancer awareness programs, and provide funds for the Livingston County Department of Health Cancer Prevention Program, Cancer Services of Monroe County, and Hope Lodge, among others.
~ Tina Cottone, Board of Directors for Strollin' for the Colon